SNOWFALL BY THE NUMBERS: A look at totals across Upstate New York (full coverage)
The winter weather alerts issued by the National Weather Service have expired. While parts of the region saw pretty significant snowfall — the epicenter of the nor'easter was in the Binghamton-area, which saw some incredible snowfall totals.
It wasn't the biggest snow storm the Finger Lakes or Western New York has seen, but snowfall totals were impressive in the Southern Tier, and even Central New York.
---
Quick Links
Local Weather Cancellations  |  FL1 Weather Center  |  Thruway Travel Alerts[1][2][3]
---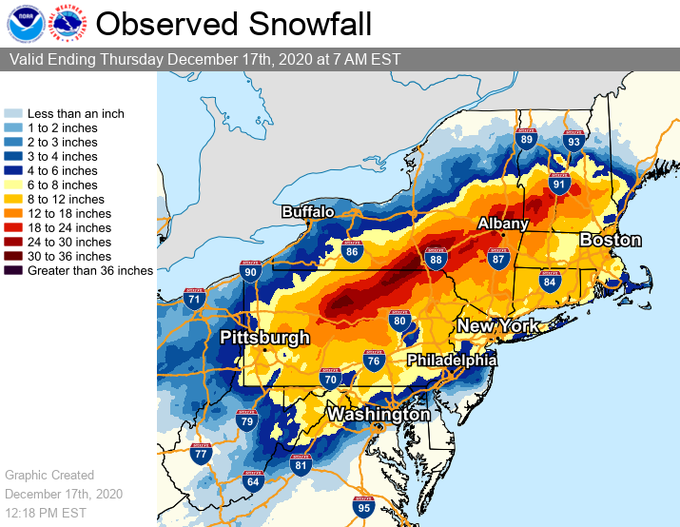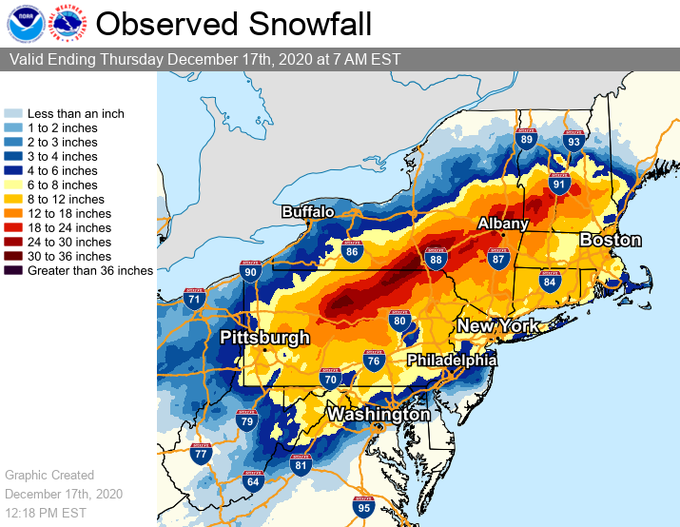 Thank you to all those who have provided us with snowfall reports. If you have time, check out some of the impressive snowfall totals coming out of Binghamton, NY! Our complete list of snowfall can be found here : https://t.co/TZtLkLm5Se#NYwx pic.twitter.com/vAjbYLsEw7[4][5][6]

— NWS Buffalo (@NWSBUFFALO) December 17, 2020[7]
Highlights
One of our forecasters doesn't want to think about digging out her car later, and instead captured a very nice video of the heavy snow falling on us here at NWS Binghamton. #nywx #pawx pic.twitter.com/uwAH47hYvH[8][9][10]

— NWS Binghamton (@NWSBinghamton) December 17, 2020[11]
Reporting in. Letting up. About another 1.5 inches making it 10inches here 7:15am. #Keukalake #fingerlakes #Yatesflakes pic.twitter.com/kVxFSKrb9C[12][13][14][15]

— Ed Traphagen (@Trapper51) December 17, 2020[16]
@Trapper51 @EricSnitilWx @Wxandgardenguy @scotthetsko @WHEC_SPensgen @wxbywilliams @wnywxguy @FLXJosh @rmccollo @shepski79 @WayneStormWatch @joey_frascati @janie40 @thirdwoe @jbasile 17° final report is 8" in Penn Yan still some light snow falling #weather #flx #snow pic.twitter.com/xcHMYPwPfL[17][18][19][20][21][22][23][24][25][26][27][28][29][30][31][32][33][34][35]

— Tracie Marie (@TracieMariBella) December 17, 2020[36]
Winter storm continues to blanket the Finger Lakes with just 8 days 'til Christmas pic.twitter.com/ea4HHidBjA[37]

— FingerLakes1.com (@FingerLakes1) December 17, 2020[38]
Steady, wet snow continues to fall in Seneca Falls shortly before 6 PM pic.twitter.com/U1DAdK13Dt[39]

— FingerLakes1.com (@FingerLakes1) December 16, 2020[40]
Check out this impressive snowfall that took place in/around Binghamton, New York where over 40 inches of snow fell and at points during the storm it was snowing 4-6 inches AN HOUR! #NYwx pic.twitter.com/YHyMDkxpnZ[41][42]

— Tyler Roney (@TylerJRoney) December 17, 2020[43]
Pic from friends near Binghamton ? pic.twitter.com/H7eg15cEC8[44]

— Andrew Banas (@AndrewWHAM) December 17, 2020[45]
Those 3 lines are a picnic table and our fence is 48 inches high. #binghamton pic.twitter.com/nrTPI2b7Dj[46][47]

— Lettermwordhairletteri (@MrsMhairiDRSMB) December 17, 2020[48]
Last night versus this morning. It's still snowing. #binghamton pic.twitter.com/OdlKMC0thw[49][50]

— Lettermwordhairletteri (@MrsMhairiDRSMB) December 17, 2020[51]